This can of worms again then. Yes, the latest
are four-cylinder cars, where their predecessors
. Should you want half a dozen horizontally opposed pistons in your mid-engined Porsche, you'll have to wait until
and GT4. Sorry. But just in case the message hadn't got through yet...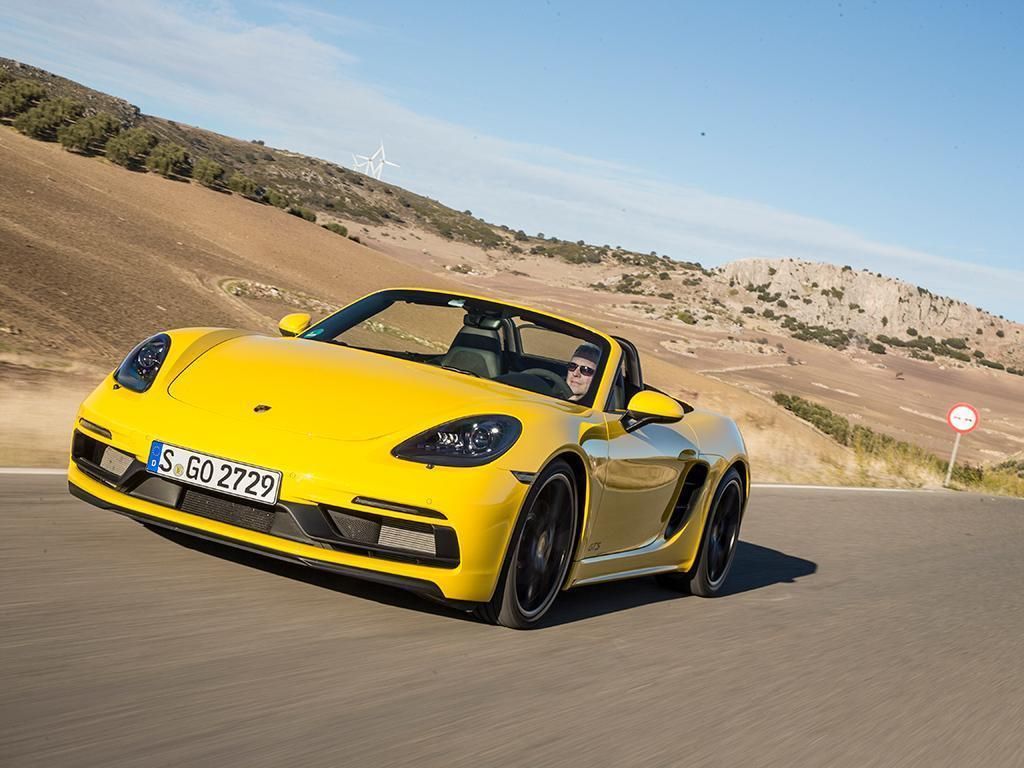 Ah, a Porsche in the sunshine - guess the problem...
The good bits of these GTS models should be the good bits of every
, specifically the chassis upgrades, styling tweaks and additional equipment. For the 718 cars that means standard Sport Chrono, PASM and a limited-slip differential, plus new 20-inch wheels, the familiar black styling details and some interior Alcantara. And also, ignoring the 'missing' cylinders if at all possible, these are still 365hp mid-engined Porsches - expectations are pretty high.
The driving begins in a very nicely specced Boxster: manual, ceramic brakes, carbon-backed seats. So never likely to be seen again. And it's all very pleasant, bar one thing: the noise. Perhaps it's a placebo effect, but this GTS seemed louder and the noise more wearisome than a regular 718 with a sports exhaust. Porsche says it lends the engine "an inimitable sonorous tone." We'd have to politely disagree, sadly.
Beyond that there's everything we've praised this Boxster for, in six- and four-cylinder form, just a tad sharper. The electric power steering is as good as it's ever been, the control weights are just so, and it feels fantastically agile. It's fast, too; say what you will about the flat-four turbo but it's never wanted for performance. Throttle response is great, better than any other comparable engine, and it doesn't really feel any slower than the old Boxster Spyder. It's just those are the points where you notice the noise most...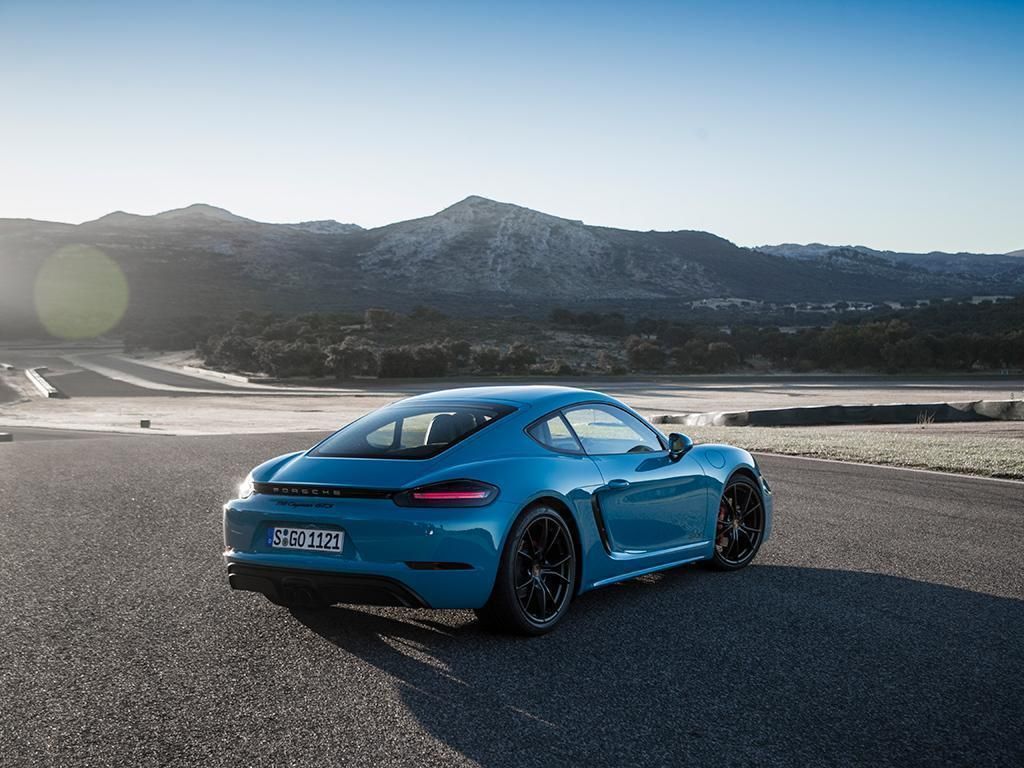 Having a roof masks the din a bit
If time in the Boxster is limited to a few highway kilometres, then it's even more restricted with the Cayman: four laps of Ascari. Unsurprisingly, the little coupe - now with PDK to avoid any downshifting mishaps - is fantastic on circuit, a perfect reminder of the advantages the mid-engined Cayman has over its typically front-engined rivals.
It also shows off where the turbo engine has improved the Boxster and Cayman, adding torque lower down the rev range and challenging the chassis at points that weren't possible with the flat-sixes. With the now-standard limited-slip diff and torque vectoring, the car is more adjustable on the throttle than ever before - perhaps even more so than the Motorsport cars, because theses GTSes have less aggressive tyres. But it's friendly, accessible and approachable too, certainly not the words you would usually associate with oversteering mid-engined cars. It's so manageable and friendly in fact that a mild reprimanding from the instructor - for, er, exploring the car's balance - comes as a bit of surprise.
There's everything you would want from a track-orientated sports car here: it feels durable and resilient, able to lap for a long time, with handling that's engaging without being intimidating and a powertrain that delivers low-rpm torque, top-end power and flawless gearshifts. Unless you were willing to accept the compromises of using a Lotus, the Cayman GTS feels miles ahead dynamically of anything else for the money.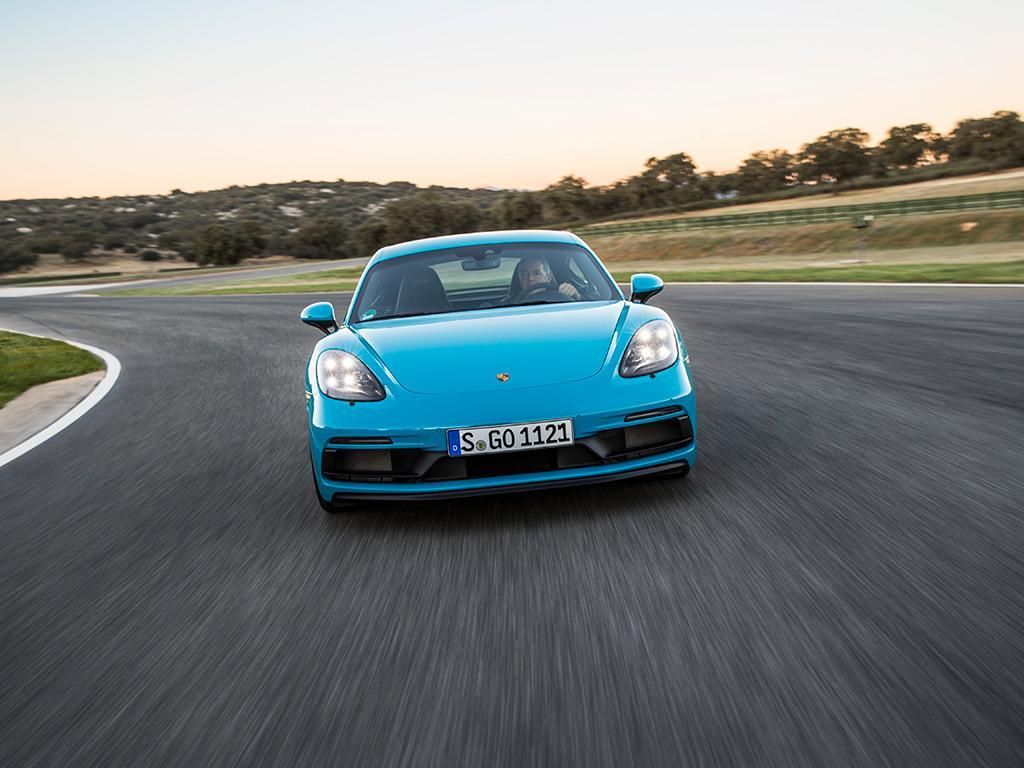 Course it's very good on track
Of course the cynical amongst you will say that a regular Cayman S will do that with the right options ticked. And some may still prefer that option. But what the GTS offers - and what these models always have - is a package beyond just the dynamic gains, and quite an appealing one at that: lower than standard and on bigger wheels, both Cayman and Boxster look great, while the black accents - familiar though they are - do still work very well. And who doesn't like a nice Alcantara steering wheel?
Factor in that the £8,013 jump to a Cayman GTS is easily accounted for when PASM is £1,000, the cheapest 20-inch wheels on an S are £1,000 (the most expensive are £2,273) and Sport Chrono is another four figures and it's easy to recommend the GTS as the pick - yet again - of a Porsche range. That's without considering the extra power. Or the looks. Even before the GTS, both cars were the best handling models in their sector and that position is only strengthened now.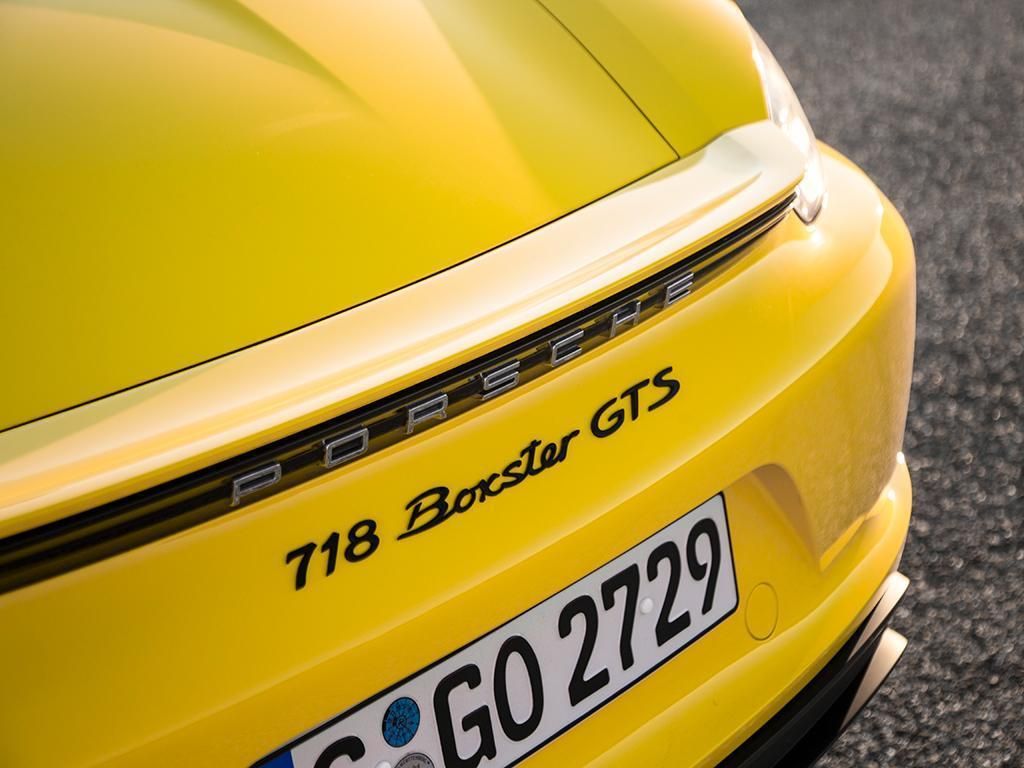 Better four-cylinder Boxster, but still four cylinders...
What neither of these GTS Porsches will do, however, is convince those detractors who say that a Cayman or Boxster should have six cylinders. That was arguably beyond their remit to begin with, but the simple fact is that these cars are a more appealing noise away from a five-star accolade, 10 out of 10 and a certificate from the teacher; further refined and honed than ever, and with that additional torque, they drive better than the six-cylinder versions. We live in hope that this can happen because the cars really are that close to supreme; if you can look (or hear) past the noise then there's more to recommend them than ever.
---
SPECIFICATION - PORSCHE 718 CAYMAN GTS
Engine: 2,497cc, flat-4 turbocharged
Transmission: 6-speed manual, rear-wheel drive
Power (hp): 365@6,500rpm
Torque (lb ft): 309@1,900-5,500rpm (317@1,900-5,000rpm)
0-62mph: 4.6sec (4.1sec with Sport+)
Top speed: 180mph
Weight: 1,375kg (1,405kg)
MPG: 31.4 (NEDC combined) (34.4)
CO2: 205g/km (186g/km)
Price: £59,866 (PDK +£,2,303)
PORSCHE 718 BOXSTER GTS
Engine: 2,497cc, flat-4 turbocharged
Transmission: 6-speed manual, rear-wheel drive
Power (hp): 365@6,500rpm
Torque (lb ft): 309@1,900-5,500rpm (317@1,900-5,000rpm)
0-62mph: 4.6sec (4.1sec with Sport+)
Top speed: 180mph
Weight: 1,375kg (1,405kg)
MPG: 31.4 (NEDC combined) (34.4)
CO2: 205g/km (186g/km)
Price: £61,727 (PDK +£2,303)